Palmetto Cemetery (LV112)
Denham Springs
Pictures by Paul Moline and Martin Gauthier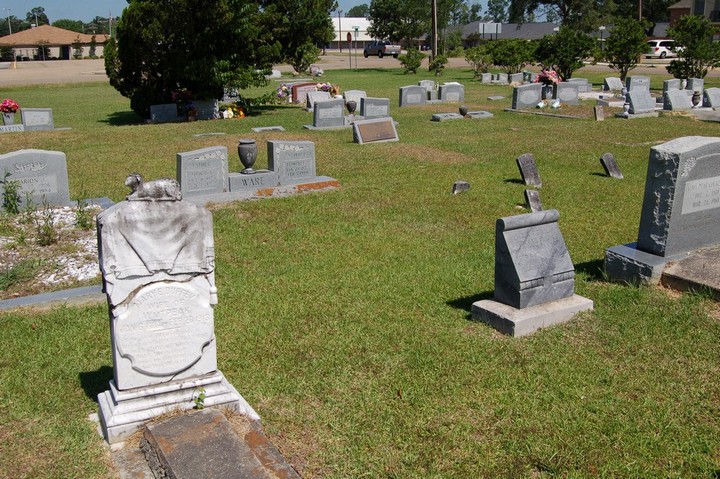 JOHN W. CLAYTON
CO. G
9 LA INF
CSA
1837
1900
Clayton, John W., Pvt. Co. G. 9th La. Infty. En. July 7th, 1861, Camp Moore, La. Present on Roll to Aug., 1861. Roll for Nov. and Dec., 1861, Absent, sick. Regtl. Return for Jan., 1862, Discharged Jan. 6th at Richmond. Record copied from Memorial Hall, New Orleans, La., by the War Dept., Washington, D. C., June, 1903, Born La., occupation farmer, res. Livingston, age when enlisted 24, single; discharged Nov. __, 1861.
Above from Records of Louisiana Confederate Soldiers by Andrew B. Booth
EMLY
CLAYTON
1837
1911
WM. T. PEAK
BORN, JAN. 14, 1843
DIED, JAN. 11, 1907
AGED 63 Y, 11 M, 11D.
SOLDIER OF THE CROSS

William PEAK
Served in CO. D
3 LA CALVARY
C. S. A.
Peak, W. T., Corpl. Co. D, 3rd La. Cav. (Harrison's).
Above from Records of Louisiana Confederate Soldiers by Andrew B. Booth
MARY E. DUFFEY
WIFE OF
WM. T. PEAK
JAN. 6, 18?? - FEB. 26, 1913